Leah turned 2 1/2 years old yesterday! Since this blog serves as a scrapbook of her life with us, I thought I'd write a little about what she's been up to lately...

On Communication
She's downright hilarious with the things she says. Lately, Leah's saying "honey" before she requests something from us, i.e. "Honey, take your vitamins, it will make you stronger!" or another favorite, "Honey, come sit down and read to me".

She's a little parrot, pretty much non-stop chatter. It's gotten so now we'll hear from the backseat repeatively, "Where we going?", "Why are we going?", "Where's China?" and because we do it so much..."Are we going to go shopping?"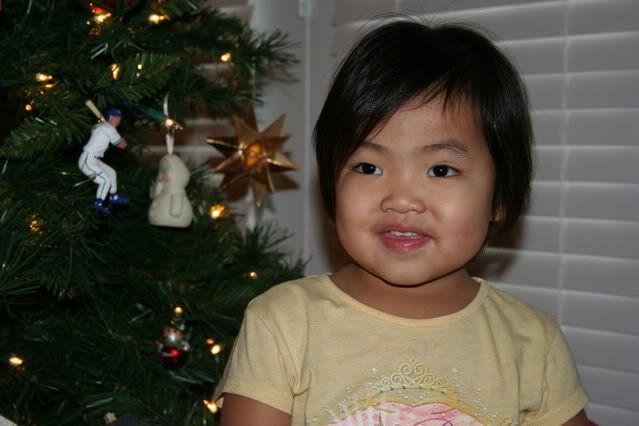 On Style
She is a DIVA. She's very picky about what she wears, so much so I do not buy anything unless I get her seal of approval...and she's two! What am I going to do in a few years? One thing about her is that you always know what she wants, I give her that.

When she's not out and about, you can pretty much guarantee she's in her beloved "Belle" dress or her runner-up dresses--Minnie mouse, and sleeping beauty. It's the first thing she asks for in the morning. For Christmas, she's getting the remainder of the Disney princess dresses from Grammy Re and Santa. I can't even begin to tell you how excited she will be.

She loves to be told how pretty she is, but is quick to give out many compliments to you as well in return. I am frequently told I look "just like a princess"...ya gotta love the eyes of a 2 year old. :)

She's made the determination today that I look like Cinderella and she looks like Princess Mulan and Princess Jasmine.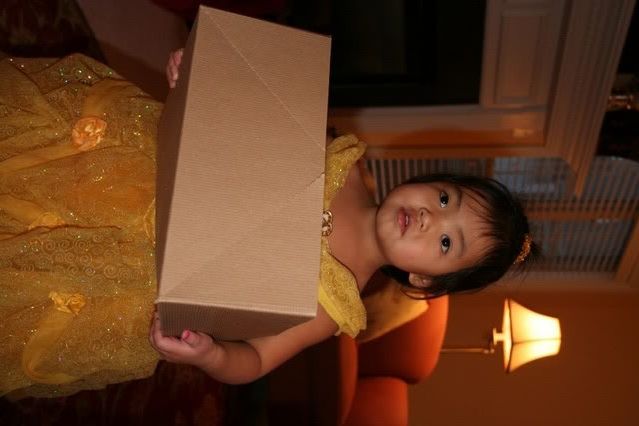 On Development
Leah is super smart, I tell her something once, and she just flat gets it. Colors, shapes..she's had down pat for almost a year and she can count up to 15 so far. Her preschool teacher told me the other day that they want to employ her as an assistant for the class.

She has her toddler moments, but they are rare, and more often than not, we just have a little girl who loves to laugh, play & sing, and the added bonus is she gives big, big hugs and is truly happiest when she gets to sit on your lap and snuggle. Oh, how I love her.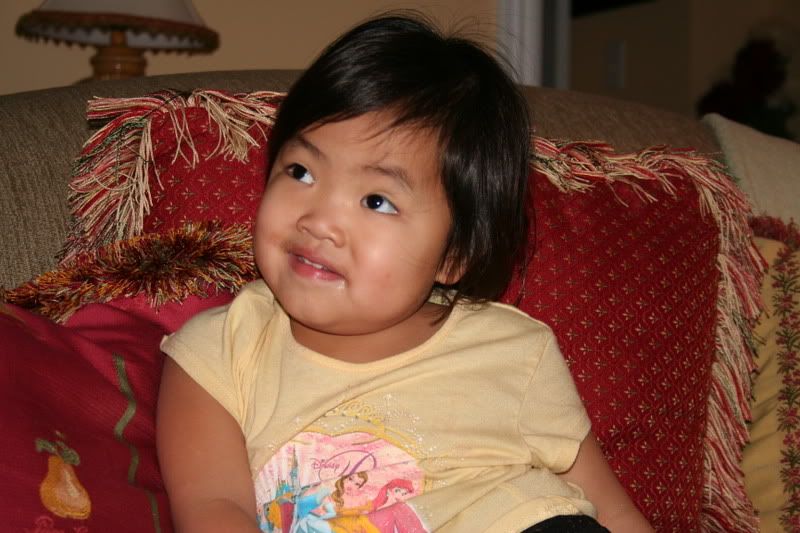 On Sleep..or lack thereof
I am not one of the lucky moms that has a child that loves to sleep. My girl is a party animal. She prefers to stay up and sleep in...that's her style. Shawn likes to say that Leah does the sleep version of drinking someone under the table.

From the very beginning we had serious sleep issues where she was absolutely terrified to go to sleep in her room. Some nights, it would take over 4 hours to calm her into sleeping..and she only spent one night in her beautiful crib, she hated that thing. It was exhausting time in our life! I firmly believe she suffered from post traumatic stress from her days at the orphanage and still does to smaller degree.

After a while, we gave up and just let her sleep with us, she fell asleep much faster and it was a calmer, more peaceful rest...for everyone. Over time, we've been able to get her into her room again but it still takes a substantial amount of negotiating to get her to fall asleep on her own...we hear, "Maybe you can rub my belly?" with her hopeful grin, to the more desperate "Please don't leave me!"

She does go to bed much better with me than she does Shawn, because she knows she can play him like a fine fiddle. No matter what, she always ends up in our bed by 4:00 in the morning, it's like clockwork. We are so tired, we could care less.

On becoming a big sister
A few people have asked me how well Leah would adjust with a newbie in the family, since our world just revolves around her. I actually think she will do great. She talks about baby Kate quite a bit and promises me she'll be a good big sister and that baby Kate will love her. It's really cute. It could be her age, but Leah is a bossy little thing, so I think she already fits the bill of a big sister nicely.

Leah's personality just shines. She frequently gives high fives to patrons in restaurants, she loves her family and friends, and she has a fun, generous, appreciative spirit about her. We are just so blessed to have her in our lives.

Happy half birthday little one! We love you so very much!